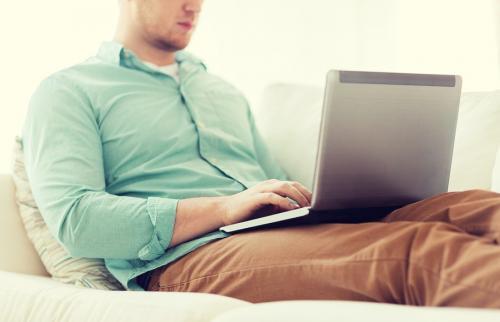 More and more frequently, employees ask for and value the opportunity to work remotely from home—and in many ways, technology is making working from home increasingly convenient. Call forwarding systems can make calls made from personal cell phones look like they are coming from your office. Additionally, computer programs such as LogMeIn allow employees to remotely access practice computers. That's just the tip of the iceberg!
But with all these advances in teleworking, be forewarned: Although it is easier now than ever to work from home, the danger when employees do so has never been greater.
Here are a few things to consider before you allow working from home:
After Hours Doesn't Mean Off the Clock
We have all known employees who answer emails from home. After all, in today's competitive world, it is harder than ever for employees to fully remove themselves from work. Many employers even require or strongly encourage employees to sync the practice's email and calendars to their personal phones or computers and to check in periodically. While doing so is perfectly legal, failing to pay for that time may not be.
Non-exempt employees need to be paid for any time they engage in a work activity, even if they willingly do it after hours. This could include the employee checking email, making a work-related phone call, doing work-related research, or even creating the company holiday card over a cup of hot cocoa. The time and place don't matter—if the employee is working, they are on the clock.
Tracking Time: Trust but Verify
If employees must be paid when working remotely, the next question is, "How do I keep track of their time?" The short answer is, the employee reports their time and you pay it. The long answer is, it is almost impossible to accurately keep track of time worked outside the office.
You can and should require non-exempt employees to clock in and out while working from home, and to keep track of all time worked. (When this is necessary, we suggest our own time-tracking system, called TimeClockIt.)
But what you cannot do, under any circumstance, is alter what the employee reports. The fastest way to a wage and hour lawyer's heart is through altered timesheets.
However, use your common sense and investigate irregularities. For example, is it reasonable that the employee reported two hours of email response time when this task normally takes them half an hour? If an employee is "padding the clock," this paycheck might just be their last.
On Call vs. Wait Time
Many practices have an employee responsible for answering the phone after hours. However, most of the time the phone is silent, and the employee is free to attend to personal matters. Should the employee be paid for all time spent with the phone, or just for the time actually spent answering calls? Hope you answered correctly, as small miscalculations over time could lead to huge penalties!
The key lies with the restrictions placed on the employee. The more restricted the employee is, the more likely they need to be paid for all of their time. For example, if an employee can go out on the town but needs to take an occasional phone call, generally you only pay for the time on the phone. However, if the employee has to remain at home or is prohibited from going out in case a patient calls, you likely have to pay for all of their time. This must be determined on a case-by-case basis, so call CEDR to help with this distinction and keep you fully compliant.
Cyber Security—A Real Threat in the Virtual World
Finally, even if you handle all payroll issues perfectly every time, your practice may still be at risk if employees are accessing work information, programs or systems at home. While your network may be secure, did you check on your employee's system before sending or allowing them to access protected health information or patient credit card information? If not, you may have opened yourself up to serious liability.
Additionally, even the most secure system has a weak point—human error. If an employee loses a computer with protected health information on it, the HIPAA penalties could be catastrophic. Even keeping a laptop used to access sensitive information at home may not be enough; if the employee's spouse, child or friend sees that information, you are on the hook.
Here's CEDR's advice: If an employee doesn't need to work remotely, don't let them. You should also update and change your passwords frequently. That problem employee you fired last month probably remembers your passwords. Don't let them take you, or your patients, for a ride!
CEDR Has Your Back. Talk to Us About Your Working from Home Policy
Between complex payroll issues, the need to mitigate security weaknesses, and the threat of HIPAA violations, any working from home policy is best crafted with the help of an HR expert. Such a policy should be part of a comprehensive, legally compliant and up-to-date employee handbook. CEDR handbooks provide this and more, all uniquely tailored to your individual needs.
Additionally, CEDR Members can speak with a Solution Center Advisor for any and all HR concerns, on an unlimited basis. Advisors are highly trained attorneys and human resource experts dedicated to providing you superior HR solutions. This makes CEDR your one-stop-shop for hiring, corrective actions, employee termination, and everything in between. To learn more, or for help solving one HR issue in your practice for free, give us a call at 866-414-6056, or email info@cedrsolutions.com. We can help!